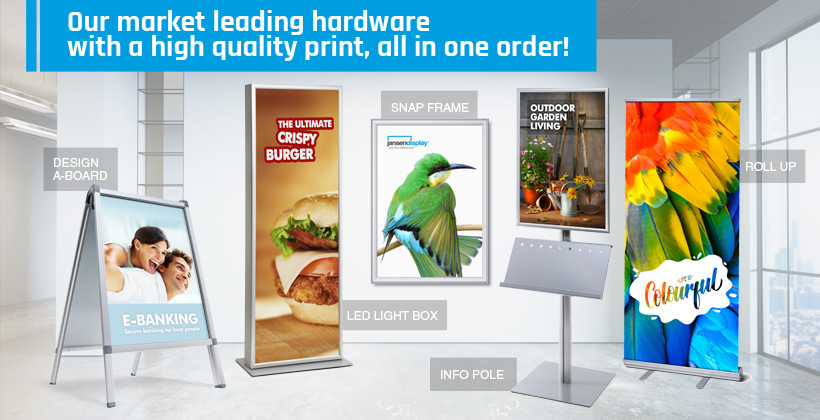 New products
About us
Jansen Display – Part of the Unipos Group is one of the UK's Largest Point of Sales Wholesalers. The sales office is based in Offord Cluny, Cambridgeshire, we are the sole wholesaler and distributor of the World's largest POS display company.
Providing high quality POS materials has been part of our company for over 30 years, with new products and services being introduced to ensure we offer you the complete solution! From snap frame to printed roller banners, from acrylic leaflet holders to double-sided digital totems and from umbrella stands to electric car charging points, we really have thought everything you will ever need.
The most recent addition to our services is our printing facility, which now allows us to offer printed products alongside our hardware. Whether you require a poster for a snap frame/windtalker, a printed roller banner or a printed graphic on a digital totem we can supply you with the complete solution.
We appreciate the demands that the display industry has & because of this we offer next working day as standard for all orders. We can offer this as we keep a large number of items in stock in our warehouse in Peterborough. Collections are also available from the warehouse if it is easier for you. We also offer a pallet service for large quantity or bulky orders.
As both a wholesaler and a printer, we are able to offer highly competitive prices across our range. This also allows us to monitor quality levels to ensure you/your customer receives the highest quality product quickly and efficiently.